In a recent FilmMakerMagazine article, Jim Hemphill offers a selection of unique and unusual series of recently remastered or blueray released films up as film recommendations.  The headline caught my eye because it mentioned a film I almost never hear anyone mention–The Valley of Gwangi.  I have an uncle who is a connoisseur of fringe, unlikely, wildly random film gems.  Routinely through my childhood and still to this day, he sends us a big cardboard box of films and tv shows every now and again.  You can never successfully guess what would be inside.  And that's exactly what reading this article was like.
Most of Hemphill's suggestions are films I've never seen, but from the descriptions I'd be willing to bet my uncle has copies of every one of them.  Hemphill starts off by recommending the film Finian's Rainbow, a filmic adaptation of a musical, about an Irishman and his daughter stealing a leprechaun's pot of gold, immigrating to the USA, and dealing with racism once they arrive. (Directed by  Francis Ford Coppola in 1968).
The second recommendation is a film called S.O.B., directed by Blake Edwards in 1981.  S.O.B. is a satyrical film about films, and jab at immorality in the film industry.
The next film he recommends is the one I want to see the most–Demon Seed, a 1977 horror-sci-fi directed by Donald Cammell.  The plot follows a super computer developed by a brilliant scientists, who takes control of his creator's home and traps the man's estranged wife inside.
Although Hemphill goes on to The Valley of Gwangi next, I'll save that one for last since it's the one that originally drew me to the post.  The final film Hemphill visits on is Les Amants du Pont-Neuf (english title Lovers on the Bridge), directed by Leos Carax and released in 1991.  The film is about two vagrants, a street performer with addictions and a diseased painter losing her sight, who live on Pont Neuf, a bridge in Paris, while it is closed down for repairs.
The last film recommendation of his that I'm bringing up is The Valley of Gwangi, long held by my uncle to be the best cowboys vs dinosaurs movie ever made (and after watching Cowboys vs Dinosaurs on Netflix, I am glad to report the record is still held). The Valely of Gwangi is a western-sci-fi-fantasy film about cowboys who stumble upon a prehistoric valley hidden in the west, which houses dinosaurs.  
The 1969 film is directed by Jim O'Connolly.  As Hemphill points out, the real highlight of this film is the stop-motion effects by Ray Harryhausen.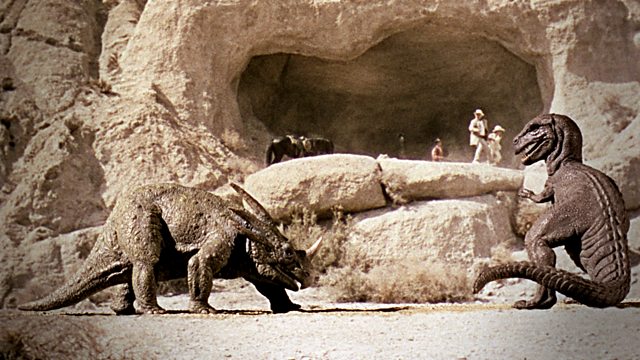 I thought this article was really an enjoyable read and a fun idea.  I don't see a whole lot of more obscure older-film recommendations, much less in such a conversational yet well-presented and considered tone.  So, in honor of what a nice idea this original post was, on top of Hemphill's recommendations, I thought I'd add one of my own to the list.  There is a 1996 claymation film called John Clark Matthews , called Pocahontas: The Girl who Lived in Two Worlds.  I didn't see Disney's Pocahontas film growing up–I saw this one (which may be a good things as, while silly, over-the-top, and far from complete, it's still a more historically accurate re-telling).
I've always been fascinated by the diversity and work that goes into stop motion films, and maybe watching this one growing up is why.  A small-budget movie that's hard to find much about online, it's actually a very well put together little musical, and certainly worth the watch if you are interested in some of the history of western stop-motion animation.